Reeves Family
---
Wellspring Missionaries
The Reeves Family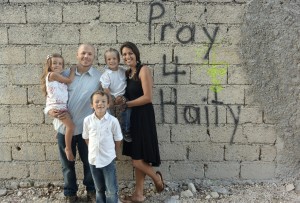 Spencer, Risa, and 3 kids (Asher, Keziah and Salem) live and serve in Port Au Prince, Haiti.  
Spencer has a passion to see individuals mobilized in the great commission and to get involved in what God is doing on the earth.   His primary role will be partnering with the local church, cultivating a prayer and working with community development projects.
Risa is extremely creative and constantly dreaming up ways to help others and be a blessing.  She will be primarily focused on homeschooling the kids, providing creative outlets for the the youth in the neighborhood and serving in the local church.  
Spencer and Risa are committed to taking care of God's children through love and protection in the spirit of adoption.  As Haiti rebuilds in the natural and the spiritual, they are dedicated to see God's purposes in the people of Haiti come forth, to be a blessing on the earth.  
You can contact The Reeves Family via email @ Reevesmissions@gmail.com .
You can follow their journey here:   www.sraks.wordpress.com
If you are interested in partnering financially with the Reeves, donations can be given in the following ways:
1. Through Wellspring Christian Fellowship
or
Send a check to:
Wellspring Christian Fellowship
306 N Sprague St
Ellensburg, WA 98926
With "Reeves" in the memo
2. Online through CoLlink     

CoLink info.




All donations are tax deductible.
---